Children's Parade 2018
Year 3, siblings and parents have the privilege of representing Aldrington at the parade again this year. This page is designed to keep you informed of updates, key dates and key information. along the way.
Sign up letters for the workshops are now available here. Parents from other classes are of course welcome to join us.
The 4 sub-teams are: Mr Miles (big make), Rachel Fellingham (small makes), Kate Osborne (costumes) and Zoe Fagg (execution/finishing arrangements). Please support them in every way you can!
PARADE DAY We have just received the order of the parade and are pleased to announce we are position 43
Our meeting point is PELHAM STREET (see Google maps). Head for our flag number 43 (This is the number you can tell your friends and family to look out for if they are spectating along the route)
Meet time is 10.15am, to allow time for face painting, final costume tweaks and getting the group together. The head of the parade moves off around 10.30am once the police have ensured the streets are safe and everyone is in place.
Face painting-on arrival- all monkeys and flowers will need face paint. Thank you to those who have volunteered to help with this job. Please take your child to a face painter as soon as you arrive in Pelham Street.
Please wear your costume and remember to bring any props that your child brings home from school.
Accompanying adults to wear green where possible as this will help the look of the jungle theme. Please also be ready to carry something.
Important points to note
The parade follows the following route: Robert Street, crossing North Road, Jubilee Street, crossing Church Street, New Road, North Street, East Street, crossing Grand Junction Road (A259), South Esplanade and finishing along Madeira Drive.

The crossing on the seafront is heavily policed and the children cross securely in groups. You are reminded that Brighton will be very busy and every child in the parade MUST have a responsible adult appointed to them at all times. Our priority is keeping all of our children safe, please support us in this. The route is heavily marshalled and first aid provision available throughout.

Within our group the children will be kept together by two coloured ribbons. Please endeavour to keep your child(ren) within these guidelines as they help not only to create a cohesive look but also to keep the children safe. The parade is slow moving and there are plenty of opportunities to take photos of Team Aldrington and the other parade creations.

The centre of Brighton is closed to all traffic from early in the morning. You may want to consider walking in with your child(ren) and getting public transport home. In the past, Aldrington families have organised to walk into town together EG FROM HOVE PARK OR THE PEACE STATUE and also picnic on the beach after the parade.

WEATHER Same Skye and the Children's Parade Festival team have a policy that the parade will ALWAYS go ahead unless it is dangerous to do so. The weather is unpredictable and there is a considerable time to wait around as 7000 school children assemble. Please come dressed for any eventuality and wear comfy shoes.
On parade day, street sellers offer balloons, whistles and other such items for sale. Parents should not feel any pressure to buy these items; this is a community event and is completely free to all. The children will have a memorable experience simply by taking part.

Dogs are not permitted on the parade route

By participating you are consenting to photographs of your child to be taken for use by the local media or event organisers.

It gets noisy. If you have young ones who are sensitive to noise please bare this in mind. Ear defenders are welcome.
Workshops The workshops have been a huge success this year. We have been very ambitious (a reflection of the enthusiasm and commitment from parents) and we have pulled it off! On the day, we will have several 'big makes' including a tiger, a bird, a butterfly and 2 toucans. We will also have a number of plants of different sizes to be carried as well as all the wonderful costumes. We can't thank you enough to all parents who have been in to help make the costumes and all the wonderful 'makes'. It's been amazing to see you all come together and make it happen! There are many who have gone above and beyond this year and we really value your time and effort.
COSTUMES T-shirts have been ordered and will be available for pick up soon. All the additional elements of the costumes have been made by the children and we will send these home in the final week before the parade.
Launch Meeting Notes:
On Wed 8th November we had our launch meeting for this year's parade. Thank you very much to the enthusiastic and creative parents that attended. We announced this year's theme which is 'paintings' and introduced everyone to our selected piece. A wonderfully colourful, vibrant and busy jungle painting by Henri Rousseau, called 'Welcome to the Jungle'.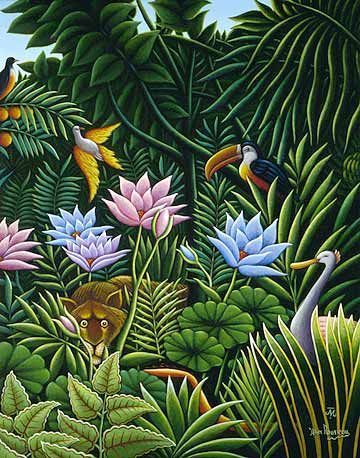 We had some time to dream about what it could look like and we will use these ideas to develop our concept over the next few months. See Powerpoint for additional notes.
Key Dates
Now- Christmas: -Developing concepts
Jan- Feb: -Small makes begin
-After school club?
*Jan 18th- surgery
*Feb 28th- Mass camp (Big make)
March- April: Complete big make
Costumes
Execution arrangements agreed
May 5th: The Big Day!
Key Information
We are happy to announce that we have our sub-team leaders confirmed. Thank you to Rachel Fellingham (small makes), Kate Osborne (costumes) and Zoe Fagg (execution/finishing arrangements).
We are looking forward to starting this exciting journey as a team. We will need as much help as possible from parents to make this the best year yet! Please take this time to consider what part you can play in the preparation for the big event.
After Christmas, we will begin workshops during the school day and run an after school club for parents and children.